The Kinneret Quartet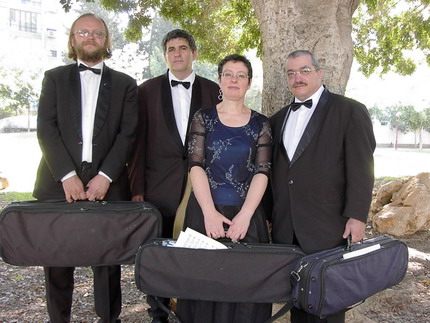 To see the detailed repertoire, click here.
To see some of the reviews click here
Founded in 1989, the Kinneret Quartet has appeared extensively in all major cities in Israel, and in Europe. Its name was inspired by the Sea of Galilee, or "Kinneret" in Hebrew, named so because of its harp shape. "Kinnor" in ancient Hebrew means harp.
Its members graduated from important music academies in Europe, like Moscow, Leningrad, Minsk and Leipzig. All its members live in Israel currently.
The quartet repertoire covers various styles, including contemporary music.
In the recent years the quartet performed also in Israeli and international festivals in Europe, like "Dreiklang" in Germany, "Thracia" in Bulgaria, "Kol Hamusika" in Kfar Blum and "Summer Nights" in Jerusalem.
All performances received positive echoes in the press.
Watch a live recording at Youtube
---
Kinneret Quartet
P.O.Box 1196
K. Bialik 27110
I S R A E L
Email: kinneretquartet@gmail.com
Mobile: +972-54-5458669